Verdura & Waukeenah
Livery
Grey, Butternut and White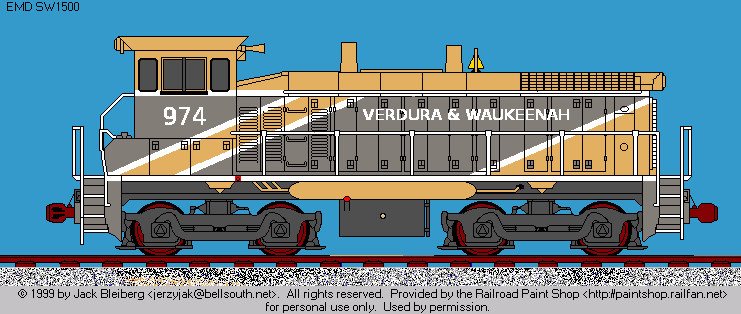 Lines
Main Line
The Main line begins at Newport and follows the Plank Road north with a stop at Magnolia to Verdura where its main yards are located. From there a pur run to Southwood, Waverly and Tallahassee. The main line turns north east around the end of Lake Lafayette reaching Chaires. At Chaires it shares a depot with iand connect to the Seaboard Air Line. Its track parallel the SAL until Capitola. At Capitola it cconnects with the Floirda Central Line from Thomasville to Felekl. A spur runs north from here to Tuscawilla and Evergreen Hills. The V&W continues east divergins from the SAL lie to Chemonie South then turn south to El Destino. Then it runs East with a Waukeenah stop to Rosewood, and fianlly south to terminate at Welaunee.
Tuscawilla Spur
Runs west from Capitol. Stops at Tuscawilla and Evergreen Hills.
Tallahasse Spur
Leaves Verdua and runs west to Southwood, Waverly and eventually the SAL Tallahasse Depot.
Roster
#974: EMD SW1500