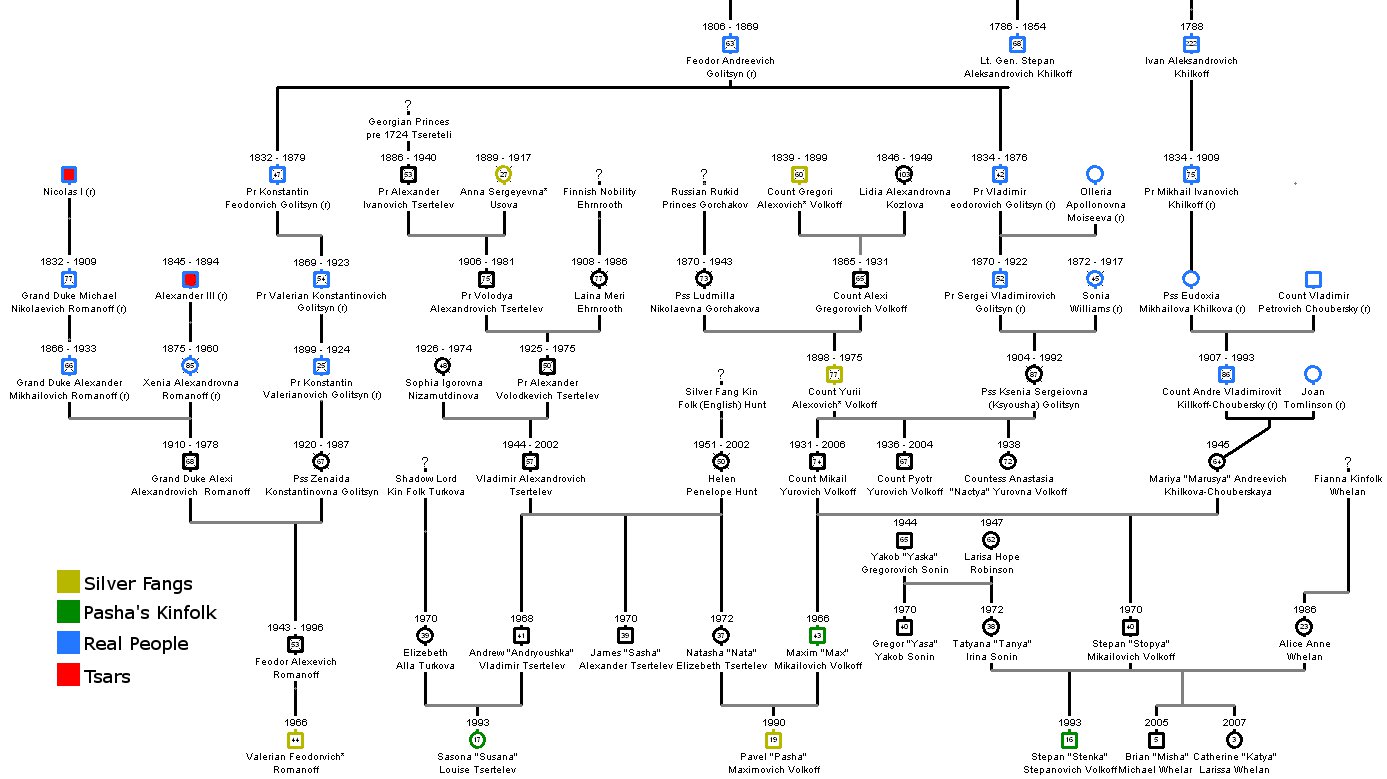 Notes on family.
Werewolves (All Silver Fangs):
Pavel "Pasha" Maximovich Volkoff (Shawn's character)
Anna Sergeyevna Usov, GGGGM. Died in the Revolution.
Count Yuri Alexovich Volkoff, GGF. Fought in the revolution. Emigrated to NYC. Both Maxim and Uncle Stopya kew him. There are family stories about him as a werewolf fighting in the revolution.
Count Gegori Alexovich Volkoff, GGGGF. GF of Yuri.
Valerian Feodorvich Romanoff, 5th cousin, Russian Mafia in NYC.
Tallahasse Residents
Stepen "Stopya" Volkoff and 2nd family. He doesnt really talk to Aunt Tanya (still in Miami) anymore. He's had 2 kids (Brain and Catherine) with Alice, a petite red haired college girl he met here. He has no intention of divorcing Tanya, who knows about the kids and Alice. Uncle Stopya is Russian Mafia. He runs a legitimate limo buisness in town also (Volkoff's Limos)
Susana Tsertlev. 17 skipped a year of school. Going to FSU. Model hot. Roommates with Pasha. Got a job doing bikini beer modeling.
Pasha's kinfolk
Dad (Maxim). Lives in Miami. Russian mafia.
Uncle Stopya. See above.
Cousin Susana. See above.
Immigrants
Count Yuri Alexovich Volkoff. Russia to NYC.
Volodya Alexandrovich Tsertlev. Russian to Finland.
Vladimir Alexandrovich Tsertlev. Finland to NYC.
Ksenia Fomova Galytzina. Russia to NYC (as young child)
Dads family
Grant Aunt Nactya
Grandmother Marusya
Uncle Stopya and families:

Miami
Aunt Tanya
"Uncle" Yasa (her brother). Mob ties
Cousin Stenka

Tallahassee
Aunt Alice
Cousin Masha
Cousin Katya
Mom's family
Uncle Sasha
Uncle Andryoushka and Aunt Alla
Cousin Susana
Vladimir and Helen Tsertlev (Grandparents) died in a car accident in 2002.
---
Mafia
Roman and Boris, bouncers for club Sanguine
Mihail and Oleg, didnt get jobs as bouncers