Crystalworks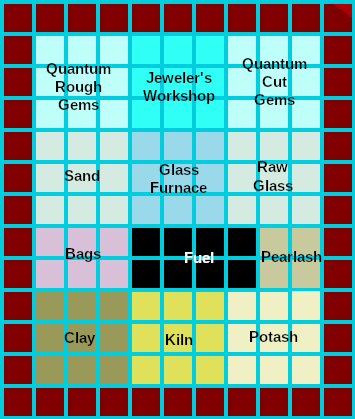 Gem, Glass and pottery production. It can be built in stages with the three gem spaces done early on and the glass and clay portions built later.
Skills Required

Gem cutting
Gem setting
Glassmaking
Item hauling (clay collection)
Glazing
Potting

Custom profession: Craftworkers (CC).

Inputs

Fuel
Rough Gems
Sand
Clay
Potash

Outputs

Cut gems, glass and clay
Pearlash
Glass products
clay products

Job Setup
Initially turn on auto gem. Pick one common type of gem and take it out of the auto gem so we always have a rough gem for moods.
Send the cut gems to a stockpile near the Trade Depot and set as automarked for trade.

Glass


Sand + Fuel -> Glass Furnace Potash + Fuel -> Kiln -> Pearlash to Glass furnace for crystal glass.